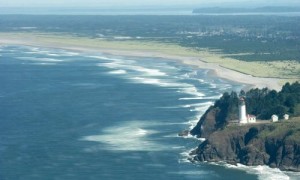 In 1946 eleven women met at the home of Burta Sheir's home to discuss forming a local branch of the national organization to promote education for women, and in February of 1947, with Edythe Clark as its new president the Willapacifc Branch of the AAUW became a reality.
From the beginning the Branch in conjunction with other local organizations such as the Ilwaco-Long Beach Kiwanis, to bring speakers and cultural events to the Long Beach Peninsula.  Art exhibits, lectures, and a tea honoring Ilwaco High School girls were  added by the second president Martha Murfin.
In 1949 a College Forum was added with scholarships for local recipients.  Willapacific was quick to participate in the Association's Scholarship Program for Ilwaco and Naselle High School Students.  Each year six girls are awarded at our May salad luncheon.
Beginning literacy became a branch project in 1955.  Susan Carney continues the project by providing a book to each new baby and the mother is is given a booklet about the importance of early reading.  In addition each sibling is given a book.
Along with STEM scholarships for students interested in science and math, scholarships are presented to local High School seniors from our local branch.
The Willapacific branch also hosts non-partial forums for local and national political information open to the public.
Meetings: The second Monday of the month at 7:00 PM at the CCAP Center, Ilwaco Wa.